The Healthy Streams, Healthy Coasts REU is not planning to host a summer 2022 program due to the end of our current funding. Please check back in the future for news on continuation of this REU site.
ABOUT
The University of Louisiana at Lafayette seeks highly motivated undergraduate students to participate in an authentic research experience with the National Science Foundation (NSF)-funded Healthy Streams, Healthy Coasts Research Experiences for Undergraduates (REU) site. Students accepted to this competitive program will have the opportunity to spend 8 weeks in the heart of Cajun Country in Lafayette, Louisiana, working with leading researchers in interdisciplinary fields related to coastal and watershed science. REU investigations will fundamentally expand our understanding of watershed and estuarine resources and processes in an urban- and agriculturally-influenced watershed.
The Healthy Streams, Healthy Coasts REU program is committed to enhancing the diversity of scientific communities and sharing our science with broader audiences. As such, we are seeking students from diverse backgrounds from Universities nation-wide. Students from underrepresented groups, first generation students, and students without undergraduate research opportunities at their home universities or colleges are highly encouraged to apply. 
Due to funding restrictions, participants must be citizens or permanent residents of the U.S. or its possessions. Students must also be enrolled in a degree-seeking program and must NOT have graduated prior to the start of the REU program.
THE PROGRAM
Southern Louisiana encompasses a rich network of watersheds connected to the Mississippi (the largest Delta in the US) and the Atchafalaya Basin (the largest swamp in the US). Despite the natural and cultural value of these systems, multiple natural and anthropogenic stressors have been placed on these water resources. This region is one of rapid and ongoing change due to both climate and land use changes, and is the focal point for a multitude of efforts at local, state, regional, and federal levels directed towards ecosystem protection and restoration.
Existing at the nexus of biology, geology, hydrology, engineering, and society, an interdisciplinary systems approach is necessary to increase understanding of these watersheds. Students involved in research in this REU program will be part of a vibrant research community engaged in innovative, multidisciplinary research to address some of the most pressing watershed and coastal issues of present and future decades. Working with faculty mentors, students will engage in hands-on research and field trips with leading researchers in watershed sciences and will develop valuable skills in conducting research, scientific writing, data collection and analysis, and presentation of research findings to diverse audiences.  Students will benefit from the education, networking opportunities, and mentorship to enhance future academic pursuits in graduate school and careers in science. For eight (8) amazing weeks during summer, REU students will be housed on campus at the University of Louisiana at Lafayette.  The campus is located in the heart of Cajun Country and is a walkable distance from downtown arts, nightlife, and some of the best restaurants in the country. Apply for REU!
WHO TO WORK WITH
Below are research mentors who are committed to working with students in 2021. Potential research projects, any necessary skills, and what skills you will gain are listed next to each of their pictures. Please refer to this section to answer the site-specific question in the common application to list your top 3 mentor choices.
 


 

 Mr. Emile Ancelet, Bayou Vermilion District

Since 1984, the Lafayette Parish Bayou Vermilion District (BVD) has worked to beautify, conserve and manage sites along the Vermilion ensuring the preservation and enhancement of the natural and cultural resources for the citizens of Lafayette Parish. The Bayou Vermilion District's mission focuses both on the environment and the unique culture of Lafayette. Students co-mentored with BVD have the opportunitie to participate in ongoing water quality research on the Teche-Vermilion River using handheld sensors, laboratory analyses, and geospatial approaches to quantiying land use in the watershed.

Website: http://www.bayouvermiliondistrict.org/

 

 

 

 

 

 

Dr. Suzanne Fredericq, Dept. of Biology

 

Most of the seaweeds offshore the northern Gulf of Mexico at 45-90m depth grow attached to algal nodules, also called rhodoliths, which form extensive beds on the hard banks. Our laboratory, in collaboration of Dr. William Schmidt, is interested in characterizing such mesophotic crust-forming and fleshy macroalgae on the basis of morphological and molecular evidence. Seaweeds of particular focus are the coralline algae and other red algae, but also brown and green seaweeds. Our lab is also very involved in assessing the effects of the 2010 Deepwater Horizon on the health and recovery of the algal communities in Louisiana. Students will learn molecular techniques (DNA extraction, PCR, sequencing, phylogenetic analyses) as they apply to seaweeds, and correlate molecular and morphological data sets from species around the world with possible worldwide biogeographic hypotheses. In addition, there will also be opportunities for specimen curation.

Lab website: http://www.suzannefredericqseaweedslab.com/

 

 

 

 

Dr. Emily Kane, Dept. of Biology

Animals are defined in part by both a requirement to ingest other organisms and their ability to move through their environment. These behaviors intersect during prey capture, when many animals approach thier prey using the locomotor system (fins, legs) and capture their prey using the feeding system (head and jaws). To maximize their chance of success, these behaviors must be coordinated, or integrated, so that the feeding structure is positioned optimally relative to the prey to ensure capture. In this way, individual functional components work together to provide emergent solutions to the ecological problem of prey capture. The Kane Lab utilizes physiological, biomechanical, ecological, and evolutionary approaches to examine swimming and feeding behaviors, as well as their integration during aquatic prey capture. We aim to understand both proximate (mechanistic) and ultimate (evolutionary) factors determining integrated outcomes (or lack thereof). Our primary technique uses high-speed videography of predator-prey interactions to quantify the kinematics of feeding and locomotor systems. Future projects will examine these interactions in local freshwater fishes such as mosquitofish and sunfish. Virtual projects examining previously collected video and/or micro-CT scans are possible. Before beginning work with live vertebrates, students will be required to complete the IACUC training and approval process. It would be helpful if students are familiar with concepts in one or more of the following areas: physiology, evolutionary biology, physics/calculus, and coding (Matlab, R, etc.). The student must be comfortable operating computers and associated programs once they are trained.

Lab website: www.thekanelab.com

 

 

 




 

Dr. Paul Leberg, Dept. of Biology     

  

Paul Leberg's laboratory is studying the effect of programs to restore barrier islands on wildlife habitat. Coastal islands are disappearing at an alarming rate, affecting seabirds that depend on them for nesting habitat. The placement of dredged materials on these islands can help replace losses to erosion and coastal subsidence, however it can have unintended consequences for seabird colonies. REU researchers can investigate: (1) historical associations between restoration programs and seabird use, 2) effects of restoration on populations of nest predators such as mammals, ants and crabs, 3) effects of dredge placement and project age on vegetation succession, or 4) the role of island characteristics on bird use and nest success.  This work will contribute to better outcomes for ecological restoration projects and benefit coastal island management throughout the coast of the northern Gulf of Mexico.

Lab website: https://leberglab.weebly.com/

 

 

 

 

Dr. Robert Miller, Dept. of Civil Engineering

Low dissolved oxygen (i.e., hypoxia) is a frequent cause of acute fish mortality and chronic stress within aquatic communities. River diversions can regulate oxygen levels in estuarine drainage systems by providing a continuous supply of cooler, oxygen-rich water to areas which are susceptible to hypoxia events. On the other hand, diversions are challenged by complex socioenvironmental issues related to flood control, sediment transport, nutrient and pesticide dispersal, property rights, and unintended habitat impacts. In this project we investigate the role of river diversions as a hypoxia control strategy in the context of an impaired estuarine drainage area along the Louisiana Gulf Coast. Our approach utilizes hydrodynamic modeling, land use analysis, and synoptic field measurements taken amongst neighboring watersheds to gain a better understanding of hypoxia controllers in the low-gradient environment.  We will also investigate a local freshwater introduction project to study how diversions may neutralize hypoxia and interact with other key biological habitat variables.
 

 

 

 

Dr. James Nelson, Dept. of Biology

Our lab studies wetland and marine food webs and the ecosystem processes that affect how organisms (primarily fish) attain and use resources. We use a wide variety of techniques from very technical to very muddy to answer our questions. All projects will have both a field and laboratory component and the students will learn a variety of skills related to conducting aquatic ecology (gut content analysis, calorimetry, field collection, etc.). We are currently looking for students to participate in projects on the effects of mangrove expansion on marsh food webs, the effects of omnivory on fish trophic transfer efficiency, and experimental wetland food web studies.

Lab website: www.nelsonecolab.net

 

 

 

 

Dr. Kelly Robinson, Dept. of Biology

 

The Robinson Marine Zooplankton Ecology Lab focuses on coastal biological oceanography. We seek to understand how marine zooplankton populations respond to climate-related and anthropogenic perturbations, with an emphasis on gelatinous plankton predators (i.e. jellyfish). Specifically, how variability in biophysical features operating at a range of spatio-temporal scales affect abundance, distribution, and mediate predator-prey interactions. A REU student could work on several different research projects: Oceanographic drivers of one or two zooplankton taxa in the context of samples collected across the Florida Straits; Spatio-temporal variability in jellyfish distribution in relation to Gulf of Mexico "Dead Zone" intensity and extent; Cross-shelf patterns in summer zooplankton assemblage structure. The REU student would have the opportunity to learn plankton imaging system (i.e., ZooScan); a little plankton taxonomy; process data from CTD instrument suite; data analysis using 'R' statistical and scripting software; Geographic Information Systems (GIS) via ArcGIS/ArcMap; professional development skills, including collaborating with graduate students, written and oral presentation, and critiquing  scientific papers.

Lab website: https://cajunplankton.com/

 

 

 

 

Dr. Brian Schubert, School of Geosciences

We study past climate using tree rings. Stable isotope measurements across annual growth rings in living, recently felled, and fossil trees provide a wealth of information on past climate at annual resolution. Recent advances in high-resolution sampling now allow for the possible detection of single storm events, droughts, and floods. Students will collect, sample, and analyze the stable isotope composition of tree-rings from old timbers and mummified wood preserved in the marsh sediments of southern Louisiana. This work aims to produce a record of extreme weather events that extends beyond our limited historical record. No experience in stable isotope geochemistry expected or required.

Lab website: https://schubertlab.weebly.com

 

 

 

 

Dr. Natalia Sidorovskaia, Dept. of Physics

 

My area of research is underwater acoustics. We collect acoustic signals produced by humans and nature in the ocean and decode them through sophisticated signal processing and machine learning techniques. By interpreting underwater acoustic signals, we are looking for ways to improve our understanding of the underwater world and the processes happening in deep bottom layers. Acoustic signals help us to find natural resources (oil, gas) stored deep under the ocean bottom, to predict destructive earthquakes, tsunamis, and hurricane paths, to understand marine mammal communities, and to unveil many other mysteries of the deep ocean. Currently our research team is studying marine mammals (beaked whales, sperm whales, Bryde's whales, dolphins) in the Gulf of Mexico using long-term passive acoustic recordings and oceanographic data. The questions we seek to answer are: (1) what regional populations of these animals are and how they change over years, (2) how environmental stresses impact these animals, (3) how the top predators are affected by entire ecosystem through  food web. Potential REU projects include: (1) development of innovative machine learning algorithms to detect and classify marine mammals in big data; (2) understanding soundscapes of hurricanes; 3) acoustic communication of sperm whales; and 4) acoustic data mining discoveries. Applicants are expected to have intermediate programming skills and be able to work in Matlab environment.

 

Dr. Beth Stauffer, Dept. of Biology

       

The Stauffer Lab conducts research on the dynamics of phytoplankton communities, seeking to 1) understand what controls growth and community composition, and 2) quantify how changes in these communities affect larger ecosystems through food webs and processes like carbon cycling. Potential REU research projects include a) looking at the role of grazing by microzooplankton in structuring phytoplankton communities in local estuaries, b) quantifying how filter-feeding oysters are effected by and affect phytoplankton communities in estuaries undergoing restoration activities, and c) assessing the effects of changing phytoplankton communities, coupled with grazing, on carbon export throughout the highly dynamic Gulf of Mexico. Students in the Stauffer lab employ combinations of lab and field approaches and utilize such techniques as flow cytometry, microscopy, microalgal culturing, ocean observing, multivariate statistical approaches, and controlled experimental manipulations. Students will also have the opportunity to participate in field work in local Louisiana estuaries.

website: www.staufferlab.com

 

 

Dr. Jorge A. Villa, School of Geosciences

We are looking forward to a busy 2021 summer with many field and lab work to do. As part of our team, REU fellows will have the chance to conduct measurements of methane fluxes in wetland plants and concentrations in soils. Data collected in our sites will be used to develop the program's project. They may include the following topics: effects of salt intrusion on greenhouse gas fluxes in wetlands, links between wetland plant species and plant-mediated methane fluxes, and phenological changes in plants upon salt intrusion. However, personal interests and the ongoing projects' status will be assessed to define the program's project. 
Students must be prepared for long hours of fieldwork in "swampy" conditions (i.e., mosquitoes, sun, heat, humidity) and have excellent teamwork skills. Lab work for field preparation and post-analysis is equally essential for the successful completion of the project. The idea is to have a well-balanced experience between field and lab activities.

Web page: https://www.wetlandsciencelab.org/

 

 
WHAT TO EXPECT
Timeline:
December 7 –   Student Applications Open
February 8 –   Deadline to submit applications
March 15 –   Selected students will be notified of their acceptance to the program
April 15 –   Deadline for students to accept/decline their acceptance to the program
June 6 to July 31 –  Students spend 8 amazing weeks conducting Healthy Streams, Healthy Coasts research
Funding:
Undergraduate Researchers accepted to this program will receive:
$600/week compensation paid biweekly*
Free on-campus housing
Partial to total reimbursement (up to $450/person) for travel to/from Lafayette
Budget for Materials & Supplies for research
Support to present your research at a scientific conference
* Stipend may be considered taxable income. Participants should talk to a financial/tax advisor to understand any tax liability for which they may be responsible.
Housing:
Undergraduate Researchers accepted to this program will stay in on-campus housing in the Legacy Park Apartments, located adjacent to Girard Park (230 Girard Park Circle, Lafayette, LA 70503). Students will share an apartment with up to two other students accepted this program. Each apartment is furnished with beds, full service kitchen (oven, microwave, refrigerator), living room amenities (sofa/love seat, chairs, dining table, barstools, end table, TV stand), free cable services, washer/dryer combo, private balcony, BBQ/Picnic area on landscaped grounds, and security card access to apartment entrances. Basic kitchen and cooking supplies are also provided.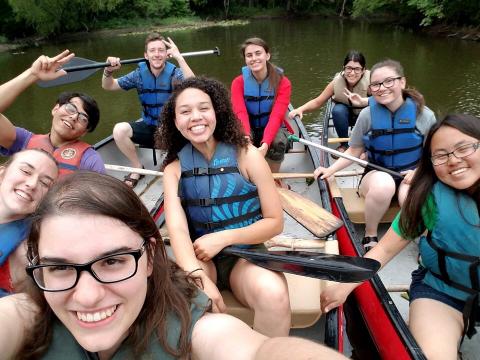 We are now using the application system available through NSF ETAP. See more detailed instructions below, and email HSHC_REU@louisiana.edu if you have any questions about completing the application.
Steps to complete the application to the Healthy Streams, Healthy Coasts REU program:
1. Register at https://www.nsfetap.org/
2. Select our site (Healthy Streams, Healthy Coasts at UL Lafayette) as one to which you are applying.
3. Complete the common application materials, which include:
- Personal statement (limit 5,000 characters)
- Resume or curriculum vitae
- Unofficial college transcript
- Contact information for two references. Please note: your references will be contacted by email requesting that they complete a reference form through this system, so make sure they know this is coming!
4. Complete the site-specific application materials, which include:
- Question related to your preferred research focus (limit 500 words). Please use this space to indicate your top 3 research mentors (from the list above). Your application will not be reviewed without this information.
- Question related to anything else you'd like us to know as we consider your application (limit 500 words). This is a space where you can tell us about your experiences as part of an underrepresented group in STEM or first generation student, any barriers you've experienced in gaining meaningful research experience, and/or your commitments to making your campus or community more equitable and inclusive for all. If you do not wish to answer this question, simply write "N/A."
Please send an email to HSHC_REU@louisiana.edu if you have any problems using the Common Application or if you have questions about the application process.
This material is based upon work supported by the National Science Foundation under Grant No 1659853. Any opinions, findings, and conclusions or recommendations expressed in this material are those of the author(s) and do not necessarily reflect the views of the National Science Foundation.