The application deadline has passed. Please check back later in the year for more information on the summer 2020 program.
Contact Dr. Katie Costigan (costigan@louisiana.edu) and/or Dr. Beth Stauffer (stauffer@louisiana.edu) to be put on our mailing list, subject line: "REU mailing list"
ABOUT
The University of Louisiana at Lafayette is seeking highly motivated undergraduate students to participate in a life changing research experience with the National Science Foundation (NSF)-funded Research Experiences for Undergraduates (REU) site. Students accepted to this competitive program will have the opportunity to spend 8 weeks in the heart of Cajun Country in Lafayette, Louisiana, working with leading researchers in interdisciplinary fields related to coastal and watershed science. REU investigations will fundamentally expand our understanding of watershed and estuarine resources and processes in an urban- and agriculturally-influenced watershed.
The UL Lafayette REU program is committed to enhancing the diversity of scientific communities and sharing our science with broader audiences. As such, we are seeking students from diverse backgrounds from Universities nation-wide. Students from underrepresented groups, first generation students, and students without undergraduate research opportunities at their home universities or colleges are highly encouraged to apply.
THE PROGRAM
Southern Louisiana encompasses a rich network of watersheds connected to the Mississippi (the largest Delta in the US) and the Atchafalaya Basin (the largest swamp in the US). Despite the natural and cultural value of these systems, multiple natural and anthropogenic stressors have been placed on these water resources. This region is one of rapid and ongoing change due to both climate and land use changes, and is the focal point for a multitude of efforts at local, state, regional, and federal levels directed towards ecosystem protection and restoration.
Existing at the nexus of biology, geology, hydrology, engineering, and society, an interdisciplinary systems approach is necessary to increase understanding of these watersheds. Students involved in research in this REU program will be part of a vibrant research community engaged in innovative, multidisciplinary research to address some of the most pressing watershed and coastal issues of present and future decades. Working with faculty mentors, students will engage in hands-on research and field trips with leading researchers in watershed sciences and will develop valuable skills in conducting research, scientific writing, data collection and analysis, and presentation of research findings to diverse audiences.  Students will benefit from the education, networking opportunities, and mentorship to enhance future academic pursuits in graduate school and careers in science. For eight (8) amazing weeks during summer 2019, REU students will be housed on campus at the University of Louisiana at Lafayette.  The campus is located in the heart of Cajun Country and is a walkable distance from downtown shopping, nightlife, and some of the best restaurants in the country. Apply for REU!
WHO TO WORK WITH
The following University researchers and watershed managers are available to mentor REU students. Please review these names and their expertise for your application to the REU program.
 


 

Dr. Katie Costigan

 

Given that half of the Earth's streams are intermittent, there is a need to develop a new theory for streams that explains how drying acts as a control on stream ecosystem structure and function, how intermittent and perennial streams are different, and how those differences vary from region to region. The student will participate in a field study that will be focused on investigating how macroinvertebrate communities in intermittent and perennial streams differ in species composition and abundance, and how these differences vary according to climate. REU students will learn a variety of field hydrologic and ecologic techniques during the internship.

website: katiecostigan.weebly.com

 

 

 

 

Dr. Mohamed ElSaadani

For this year's project the student will be engaged in an interesting data analysis study with a main focus on monitoring the interactions between the fresh and coastal waters in Southwest Louisiana. Namely, he or she will perform spatial and temporal statistical analysis using CRMS and USGS stream and lake stage observations to analyze the interactions between the fresh water systems (e.g., the Toledo bend and the Sabine River) and the coastal water all the way down until Holly Beach. The student will gain important skills such as, performing data analysis using the programming language R, how to download and visualize stream observations, GIS data visualization, and understanding the salt-fresh water interactions in low-lying coastal regions.
 

 

 

 

Dr. Suzanne Fredericq

 

Most of the seaweeds offshore the northern Gulf of Mexico at 45-90m depth grow attached to algal nodules, also called rhodoliths, which form extensive beds on the hard banks. Our laboratory, in collaboration of Dr. William Schmidt, is interested in characterizing such mesophotic crust-forming and fleshy macroalgae on the basis of morphological and molecular evidence. Seaweeds of particular focus are the coralline algae and other red algae, but also brown and green seaweeds. Our lab is also very involved in assessing the effects of the 2010 Deepwater Horizon on the health and recovery of the algal communities in Louisiana.
Students will learn molecular techniques (DNA extraction, PCR, sequencing, phylogenetic analyses) as they apply to seaweeds, and correlate molecular and morphological data sets from species around the world with possible worldwide biogeographic hypotheses. In addition, there will also be opportunities for specimen curation.
 

 

 

 

Mr. Greg Guidroz/Emile Ancelet

Since 1984, the Lafayette Parish Bayou Vermilion District has worked to beautify, conserve and manage sites along the Vermilion ensuring the preservation and enhancement of the natural and cultural resources for the citizens of Lafayette Parish. The Bayou Vermilion District's mission focuses both on the environment and the unique culture of Lafayette.

 

 

 

 

Dr. Aubrey Hillman

Aubrey Hillman's research group collects sediment cores from lakes in order to reconstruct natural environmental variability, anthropogenic impacts to the environment, and the interactions between the two. REU research projects will focus on studying local lakes in Southwestern Louisiana. Potential topics include: 1) monitoring lake inflows/outflows for water quality parameters to assess eutrophication; 2) analyzing lake sediment geochemistry to infer land use change and/or industrial pollution. Students will learn methods for water quality sampling, sediment core sampling, and preparation of samples for geochemical analysis.

Website: https://aubreyhillman.weebly.com

 

 

 

 

Dr. Paul Klerks      

Paul Klerks' research group studies the effects of environmental contaminants on organisms, and the reverse – how organisms affect what happens to contaminants in their environment. Ongoing research uses aquatic organisms (fish, shrimp, snails, algae) for studying these effects and uses metals and oil as model environmental contaminants. One possible research project for an REU student is looking at the potential to use apple snails for monitoring heavy metal contamination in the environment and involves both laboratory and field work.  The student will learn to conduct experiments, do field collection of apple snails, maintain them in the laboratory, and measure heavy metal concentrations in organisms and the environment.

 

 

 

 

Dr. Paul Leberg     

  

Paul Leberg's laboratory is studying the effect of programs to restore barrier islands on wildlife habitat. Coastal islands are disappearing at an alarming rate, affecting seabirds that depend on them for nesting habitat. The placement of dredged materials on these islands can help replace losses to erosion and coastal subsidence, however it can have unintended consequences for seabird colonies. REU researchers can investigate: (1) historical associations between restoration programs and seabird use, 2) effects of restoration on populations of nest predators such as mammals, ants and crabs, 3) effects of dredge placement and project age on vegetation succession, or 4) the role of island characteristics on bird use and nest success.  This work will contribute to better outcomes for ecological restoration projects and benefit coastal island management throughout the coast of the northern Gulf of Mexico.

 

 

 

 

Dr. Robert Miller

Low dissolved oxygen (i.e., hypoxia) is a frequent cause of acute fish mortality and chronic stress within aquatic communities. River diversions can regulate oxygen levels in estuarine drainage systems by providing a continuous supply of cooler, oxygen-rich water to areas which are susceptible to hypoxia events. On the other hand, diversions are challenged by complex socioenvironmental issues related to flood control, sediment transport, nutrient and pesticide dispersal, property rights, and unintended habitat impacts. In this project we investigate the role of river diversions as a hypoxia control strategy in the context of an impaired estuarine drainage area along the Louisiana Gulf Coast. Our approach utilizes hydrodynamic modeling, land use analysis, and synoptic field measurements taken amongst neighboring watersheds to gain a better understanding of hypoxia controllers in the low-gradient environment.  We will also investigate a local freshwater introduction project to study how diversions may neutralize hypoxia and interact with other key biological habitat variables.
 

 

 

 

Dr. James Nelson

Our lab studies wetland and marine food webs and the ecosystem processes that affect how organisms (primarily fish) attain and use resources. We use a wide variety of techniques from very technical to very muddy to answer our questions. All projects will have both a field and laboratory component and the students will learn a variety of skills related to conducting aquatic ecology (gut content analysis, calorimetry, field collection, etc.). We are currently looking for students to participate in projects on the effects of mangrove expansion on marsh food webs, the effects of omnivory on fish trophic transfer efficiency, and experimental wetland food web studies.

Website: www.nelsonecolab.net

 

 

 

 

Dr. Kelly Robinson

 

The Robinson Marine Zooplankton Ecology Lab focuses on coastal biological oceanography. We seek to understand how marine zooplankton populations respond to climate-related and anthropogenic perturbations, with an emphasis on gelatinous plankton predators (i.e. jellyfish). Specifically, how variability in biophysical features operating at a range of spatio-temporal scales affect abundance, distribution, and mediate predator-prey interactions. A REU student could work on several different research projects:

Oceanographic drivers of one or two zooplankton taxa in the context of samples collected across the Florida Straits
Spatio-temporal variability in jellyfish distribution in relation to Gulf of Mexico "Dead Zone" intensity and extent
Cross-shelf patterns in summer zooplankton assemblage structure

The REU student would have the opportunity to learn:

plankton imaging system (i.e., ZooScan);
a little plankton taxonomy;
process data from CTD instrument suite;
data analysis using 'R' statistical and scripting software;
Geographic Information Systems (GIS) via ArcGIS/ArcMap;
professional development skills, including collaborating with graduate students, written and oral presentation, and critiquing scientific papers

Lab website: www.cajunplankton.com

 

 

 

 

Mr. Donald Sagrera

The Teche-Vermilion Freshwater District is in the process of collecting water samples from the lower Teche-Vermilion watershed. They collect samples once a month from 18 sites. Water sample parameters include Fecal coliform; total N; TKN; Nitrites-Nitrates; TSS; Total P; Dissolved Oxygen; pH; Temperature; Conductivity; TDS; and Turbidity. We would like to work with a students to determine if there is a correlation between any of these parameters and to compare the water that we are pumping from the Atchafalaya River to runoff water within our watershed. 

 

 

 

 

Dr. Beth Stauffer

       

The Stauffer Lab conducts research on the dynamics of phytoplankton communities, seeking to 1) understand what controls growth and community composition, and 2) quantify how changes in these communities affect larger ecosystems through food webs and processes like carbon cycling. Potential REU research projects include a) looking at the role of grazing by microzooplankton in structuring phytoplankton communities in local estuaries, b) quantifying how filter-feeding oysters are effected by and affect phytoplankton communities in estuaries undergoing restoration activities, and c) assessing the effects of changing phytoplankton communities, coupled with grazing, on carbon export throughout the highly dynamic Gulf of Mexico. Students in the Stauffer lab employ combinations of lab and field approaches and utilize such techniques as flow cytometry, microscopy, microalgal culturing, ocean observing, multivariate statistical approaches, and controlled experimental manipulations. Students will also have the opportunity to participate in field work in local Louisiana estuaries. 

website: www.staufferlab.com

 

 
WHAT TO EXPECT
Timeline:
December 20 –   Student Applications Open
February 3 –   Deadline to submit applications
March 15 –   Selected students will be notified of their acceptance to the program
April 15 –   Deadline for students to accept/decline their acceptance to the program
May 31 to July 27 –  Students spend 8 amazing weeks conducting Healthy Streams Healthy Coasts research
Funding:
Undergraduate Researchers accepted to this program will receive:
$500/week compensation paid biweekly*
$99/week allowance for food paid biweekly*
Free on-campus housing
Partial to total travel reimbursement following completion of travel
Materials and supplies for research
* Stipend and food allowance are taxable income. Participants should talk to a financial/tax advisor to understand any tax liability for which they may be responsible.
Housing:
Undergraduate Researchers accepted to this program will stay in on-campus housing in the Legacy Park Apartments, located adjacent to Girard Park (230 Girard Park Circle, Lafayette, LA 70503). Students will share an apartment with up to two other students accepted this program. Each apartment is furnished with beds, full service kitchen (oven, microwave, refrigerator), living room amenities (sofa/love seat, chairs, dining table, barstools, end table, TV stand), free cable services, washer/dryer combo, private balcony, BBQ/Picnic area on landscaped grounds, and security card access to apartment entrances. Basic kitchen and cooking supplies are also provided.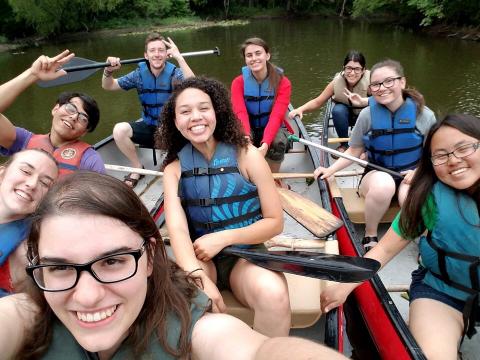 Step 1) Obtain your REU ID. To do this, you must be registered on www.nsfreu.org. Once you've completed the registration process, you will be given a nine digit number that you will use in all of your REU applications. You only need to do this process once. Please visit www.nsfreu.org —> Create Account/Log In (blue button in top right), and follow instructions for Students.
Step 2) Gather your Application Materials. Our application system (see Step 3) will not let you save your work as you go, so it's best to have everything ready to go when you start! Below is a list of the materials you'll need, as well as the essay prompts. We recommend preparing your responses to these questions in a word processing format and then pasting them into the application form.
- Section 1: Instructions & Email Address
- Section 2: Personal Information (REU ID, Name)
- Section 3: Personal & Research Statements
Personal Statement: Tell us about yourself! What unique qualities and characteristics will you bring to the program? What are your academic interests, research interests, career goals, and/or any awards and honors that you've received? What do you do with your time when you are not in class? This REU program is dedicated to enhancing the diversity of future scientific communities. Please describe how you, based on your personal background and life experiences, will contribute to this mission during and after participation in this REU. (max. 3000 characters)
Research Statement: Please describe the types of research you would be interested in undertaking as part of the UL Lafayette REU program. How will this experience support your academic and career goals? Do you have access to existing undergraduate research opportunities at your home institution? What skills, knowledge, and abilities do you hope to develop? What do you expect to gain from your mentor and the research lab community? How do you expect to contribute? (max. 2000 characters)
Optional Additional Information: Is there anything else we should know to consider your application? For example, have you overcome any hardships in pursuing your academic goals?  Do you have any concerns about participating in the UL Lafayette REU program? (max. 800 characters)
- Section 4: Research Interests. Please refer to the Who to Work With section above to indicate your preferred areas of research and mentors.
- Section 5: Information for References. Here you will provide the names and emails for your References. Please note: you are responsible for obtaining letters of references. See instructions below (Step 4)
- Section 6: Document Upload. Please have a CV or Resume and unofficial copies of undergraduate transcripts ready to be uploaded. Files must be in .doc, .docx, or .pdf format and 10 MB or less to be uploaded.
Step 3) Submit Application! Access application form here. Complete all sections and click Submit! You will receive an email when you have submitted a complete application.
Step 4) Request TWO (2) Letters of Reference. Make sure your References submit letters directly to Dr. Beth Stauffer (stauffer@louisiana.edu) with "REU Applicant_'YourLastName'" in the subject line (for example, a letter referring Bill Smith would be "REU Applicant _Smith"). References are due by 3 Feb 2019.
This material is based upon work supported by the National Science Foundation under Grant No 1659853. Any opinions, findings, and conclusions or recommendations expressed in this material are those of the author(s) and do not necessarily reflect the views of the National Science Foundation.